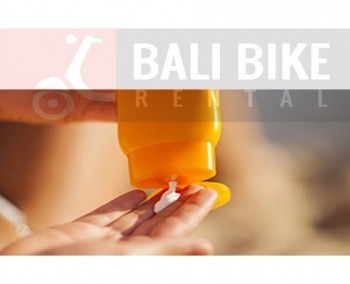 Make sure you don't leave home without it on Bali.
During your Holiday make sure you apply Sunscreen generously.
Preferably every two hours on sunny days and especially between 12:00 and 4:00 PM.
Without a doubt having Sunscreen around is a MUST! With the wind blowing in your face and over your arms and legs you wont notice sunburn until its too late.
Make sure you don't get the false impression your sun tan is working out just fine to find yourself coming back with heavy sunburn!
For just an additional $ 12.95 we will make sure you get a fresh (yes, sunscreen is perishable), SPF 30 pocket size Sunscreen tube from a reputable brand (Nivea, Piz Buin, Banana Boat) delivered together with your motorbike.