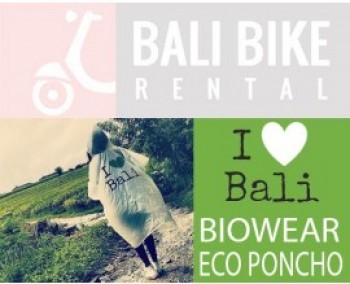 De Bali Bike Rental Biowear Eco Poncho is erg licht, maar duurzaam, wind-werend, waterproof en het het belangrijkst, 100% milieuvriendelijk.
Onze meest gevraagde vraag kan beantwoord worden met dat deze poncho niet zal smelten onder de zon of onder de zitting van de scooter en deze zal ook niet uit elkaar vallen na een of twee regenbuitjes. Integendeel, hij is makkelijk bestand tegen een heel regenseizoen op Bali.
Maar natuurlijk, geldt zoals bij alle andere poncho's dezelfde regel: hoe voorzichtiger u er mee omgaat, hoe langer hij bruikbaar is.
Wanneer u besluit zich te ontdoen van de Biowear Eco Poncho, zal deze in ongeveer een jaar een bron van proteïne worden voor het eco-systeem.