Blog: Ubud Adventure by Jessy Love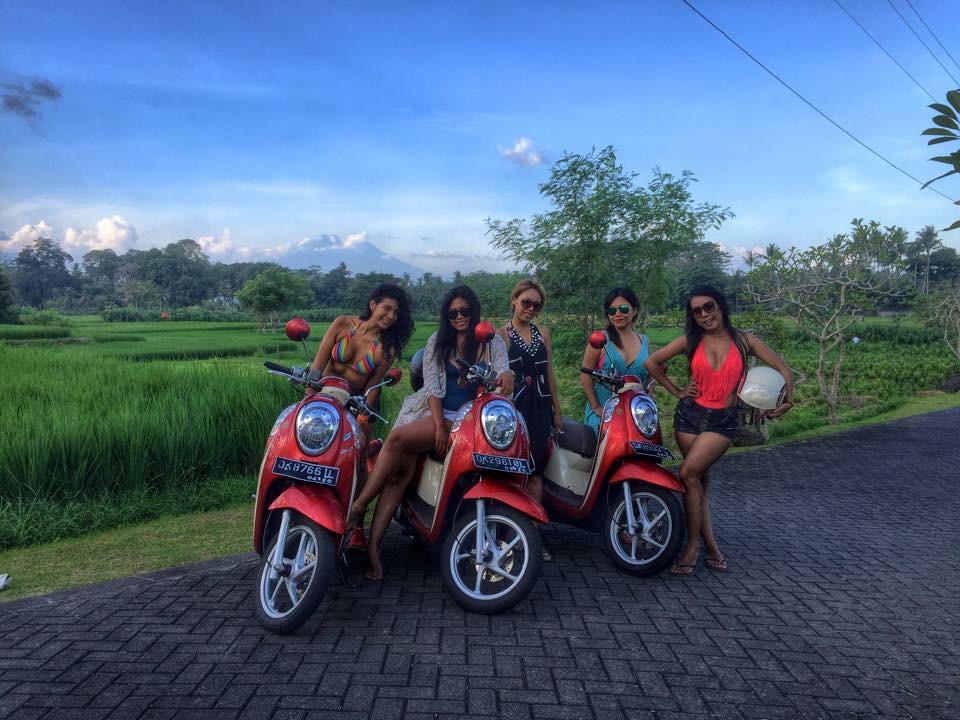 I often much prefer to go with the flow than to plan my trips out! It was a Saturday morning, I woke up with waterfall cravings and in less than an hour I was on the road heading to UBUD with my girlfriends, in our super red scoopy scooters from BaliBikeRental.com.
I love their red colored Honda Scoopy so I was even happier….I was definitely in my YOLO mode while cruising through the traffic on our amazing ISLAND OF GOD.
It was quite easy, fast and affordable to rent our scooter from BALI BIKE RENTAL They were very efficient and helpful with my last minute request for three scooters.
They delivered the bikes in less than 60 minutes to my place and to top it off I was even able to rent a GoPro as we wanted to capture funny and unforgettable images of our girl's road trip.
In case you were wondering Tegenungan waterfall lies at Tegenungan Village, approx. 5 kilometers, south-east of Ubud. We made it to Ubud in less than one hour I believe. My super driver was going fast but I felt safe as the scooters were brand new and we had insurance in case something happened.
Before heading to the waterfalls, we decided to grab some food before entering into HANGRY mode <=== state of anger caused by lack of food. Happy tummy = happy woman (wink-wink tips-tips for the guys).
The girls were craving meat and I was just hungry so we decided to go to LOCAVORE TO GO since they are quite famous for their JUICY BURGERS. The hungry girls took the "BURGER A LA RAY" which they said was delicious!!
As for Myself I don't eat meat anymore so I took a healthy yummy veggie soup with a tasty goat's cheese sandwich.
If you're planning to eat there, and trust me you should, just be sure to look out for the sign as it's placed quite high. If you get lost – just ask around for directions because my stubborn friend kept on driving and driving around so it took us about 15/20 minutes to find it. I think we went around 15X the football field…
Tummy's full we were ready to start the little hike that takes you to the waterfalls.. It's a nice relaxing walk down to the waterfalls and once you reach it, you won't regret it... It was a perfect sunny day for a dip into the fresh crystal water. . We were even treated to a bonus rainbow... #PRICELESS
Until my next adventure …
"THE TRAVELS OF JESSY LOVE "