Blog: Discovering Bali on a Motorcycle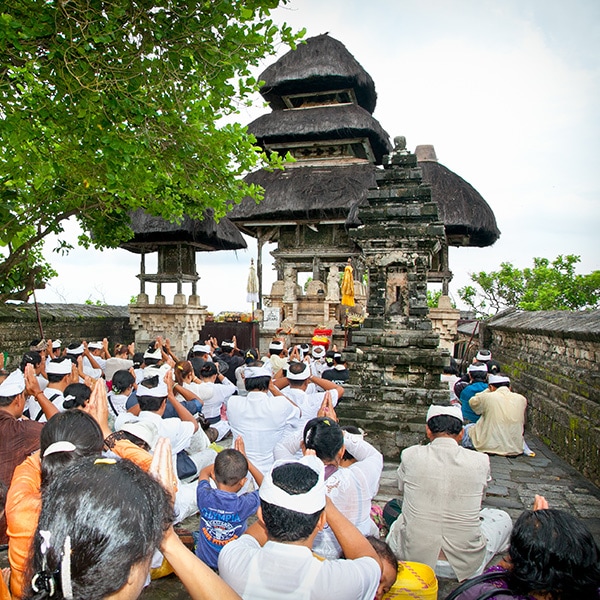 We had such a great Down Under Tour on Bali on our rented motorcycle that I decided to write a short story about it for Bali Bike Rental to post on their website. I hope that whomever reads this will find it useful!
As this was our first Bali trip by ourselves we left from the touristic area called Legian. We left from Padma Bali Hotel since we were staying here and the motorcycle was delivered to our hotel by the Bali Bike Rental staff. We decided to drive down the southern direction after passing the airport. After just 5 minutes on the Bali highway(?) we already reached that astounding Bali scenery which simply is experienced best while driving a motorbike we discovered during this exciting day!
We got captured by beautiful green surroundings on those tiny little but typical Bali roads leading us toward Uluwatu, Padang Padang, Balangan and Bingin Beach. We even discovered a truly secret treasure location we are sure not many tourists on Bali have heard about and even less have driven there on a motorcycle for sure!
At this treasure spot we could hardly find a few people, but it is more likely no one will be there we think. For us this was quite a unique moment during our holiday on Bali. Especially considering being on such a popular tourist destination that Bali is.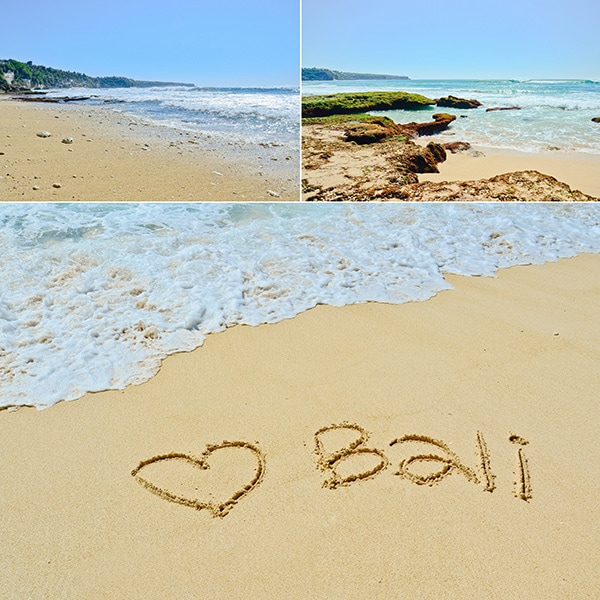 Standing on the top of this cliff we were looking down on a beautiful long stretch white sandy beach with a crystal clear ocean in crushing into it. You can decide to stay on the cliff, enjoy the amazing Bali scenery or you do what we did and you walk down the 300! steps.
We found it a really cool experience as you will be passing through monkey territory as well. If you ask us, we definitely considered it worth the effort going down those stairs.
For various reasons such as:
1. For us it was our private beach during that day. Probably the most beautiful private beach we have and will see for a long time!
2. Passing though friendly Monkey territory, do we need to say more?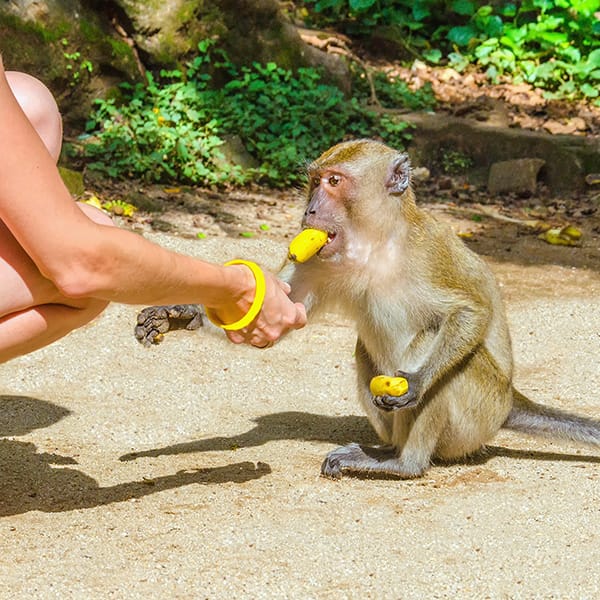 3. Did we mention this beautiful beach is located driving just 35 minutes out of Legian. And yes, on our motorcycle that was!
Another beautiful spot on Bali but seemed a bit more popular, especially with the surfing crowds Uluwatu Beach. It seemed that besides for surfing Uluwatu is very well known for its variety of beautiful and scenic Balinese temples and Kejek dancing, which is an amazing traditional Indonesian ancient ritual we were told.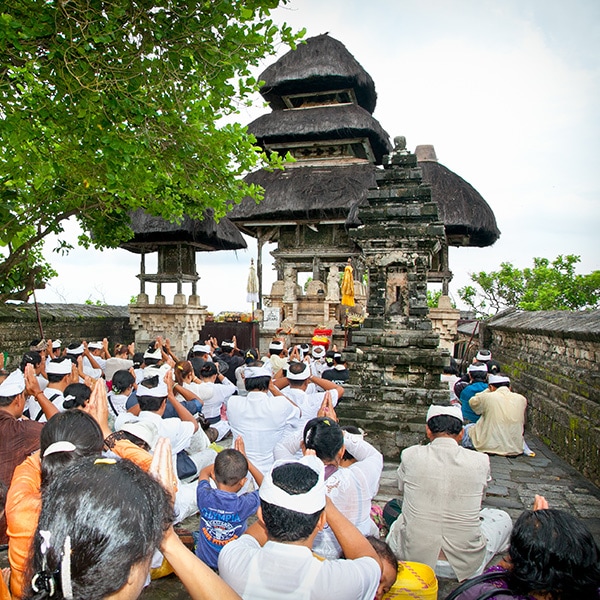 We found a variety of both surfing and relaxation spots. It is definitely a spot we are happy about visiting. Especially when taking into consideration it's a merely 45 minutes' drive by motorcycle from Legian. When we arrived at the Uluwatu area we found out that it has much more to offer than just a beach! We actually discovered an entire community with really cool shops offering a wide variety of goods and some really great restaurants.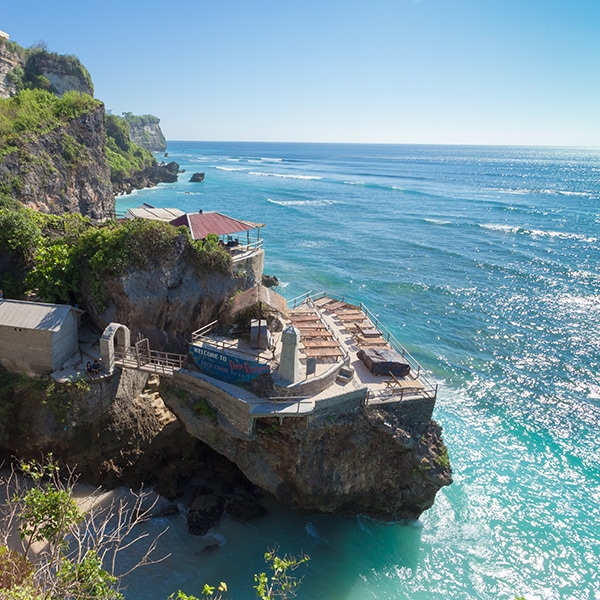 Another cool thing that we discovered is that there is a beach at Uluwatu that is only reachable during low tide. The Lifeguards told us it was safe to go so off we went!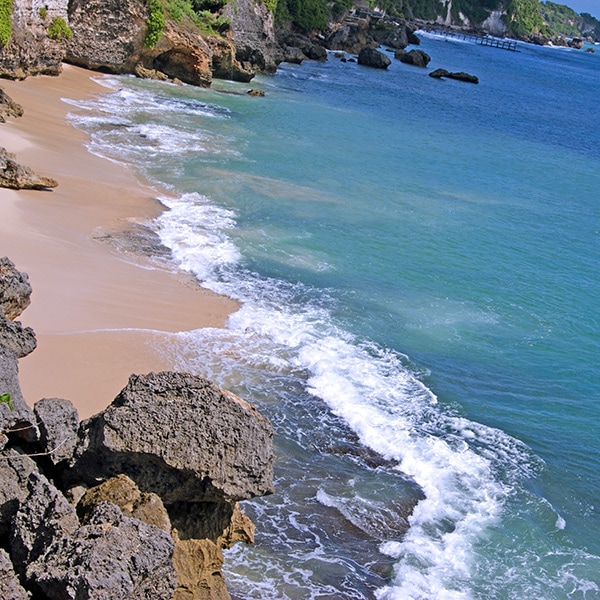 During high tide we experienced the waves slamming on the cliffs, really amazing. So if your bucket list says go and experience that typical Bali vibe this beautiful island has become so famous for, make sure you drive down to Uluwatu and experience for yourself that this is quite the perfect spot.
Next on our down under list were Padang Beach, Balangan Beach and Bingin Beach. Three beautiful beaches located within just 20 minutes from each other and again within an hour reach of Legian. We experienced white sand beaches complimented by a bright and clear ocean! We discovered the surrounding cliffs are stunning too make sure to take a couple of pictures before you leave. To us it seemed that this area is attracted by people that want to relax on the beach in peace. What we really liked is that there were actually no beach vendors present, this significantly contributed to its peaceful surrounding.
Besides the spots we have listed above there are so many more "hidden treasures" to be discovered on the way to them. The scenery you will see when driving the roads that bring you there are just as amazing especially when you have the opportunity to get off the main roads and take some left and right turns into the smaller ones. This is just one of the reasons why at Bali Bike Rental we decided to add their portable WiFi router. We took full advantage of it and found a lot of "hidden and scenic" routes. All by ourselves we discovered Bali in safety and total comfort. We used Google Maps and it pretty much worked for over 95% of the time.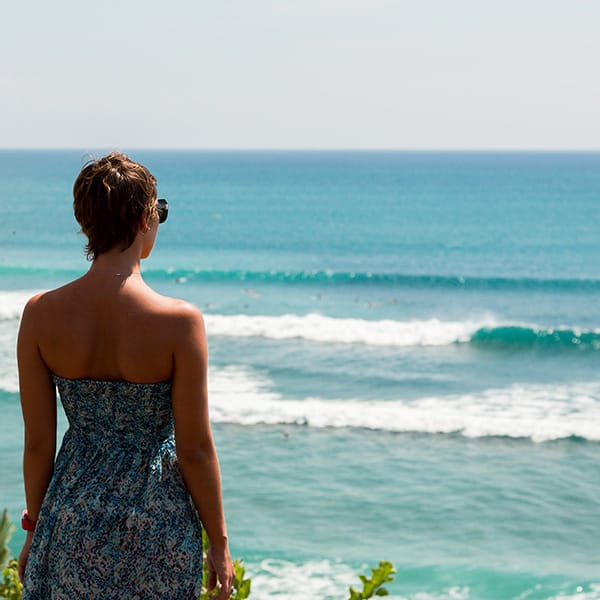 We ended our tour having a fantastic open-air BBQ dinner at Jimbaran Beach. Maybe you will find the most delicious fish dishes on this beautiful Island, just like we did!