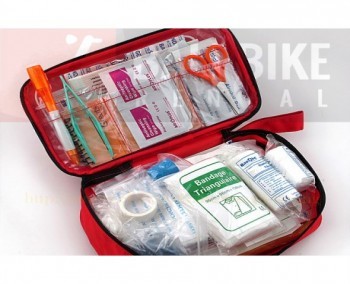 You never know what will happen and we hope that your time on our bikes will be safe, secure and accident free at all times.
However in the unfortunate event something goes wrong you will find the Bali Bike Rental Emergency Medical Kit properly sealed within your helmet compartment.
With an abundance of high quality, internationally ISO approved items such as: - Bandages, Plasters, Scissor, Sanitary Gloves - Sterile water, Betadine, Alochol swabs, Sodium Chlorine Solution - Paracetamol. Durex Condom, ProComfortt Tampon and various other items usable to treat minor injuries in a sterile matter while being on the road.
Even in the case of minor injuries such as surface scratches always seek professional medical attention.
PLEASE NOTE: A fully equiped medical kit is provided with every bike Free-Of-Charge. In the unfortunate case you will have to use it is available to you. IMPORTANT: If you return the medical kit sealed and unused as we deliver it to you there is no charge. If you return the medical kit with the seal is broken you will be charged $14.95.