Bali Bike Rental was established in 2014 with the single goal to professionalise the motorbike rental industry in Bali. Nowadays, trough organic growth and several acquisitions we are the market leader. We operate a fleet of hundreds of motorbikes.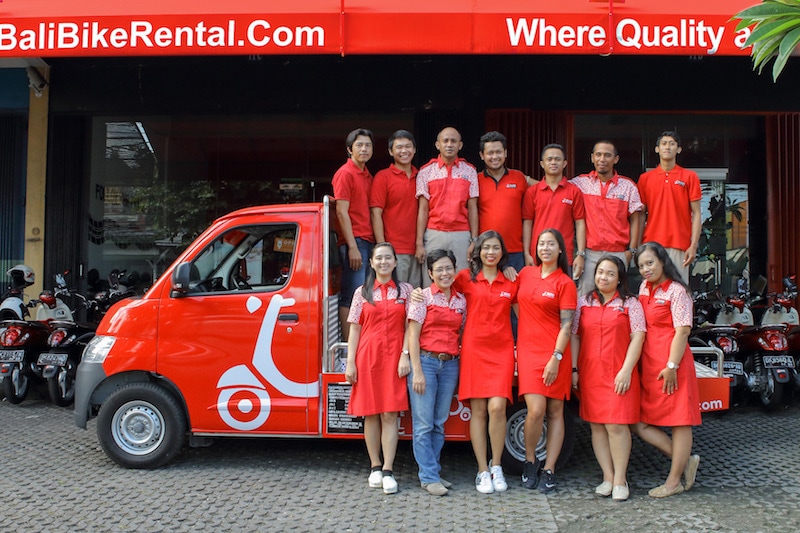 Our business is marketed and promoted by Bikago Pte Ltd from Singapore and has licensed local Indonesian company CV Gerhana Unggul Dewata to operate its services in Bali, Indonesia. We are the team you can rely on during your trip on Bali. When you book with us you can be sure that you rent a motorbike or scooter with the most trustworthy scooter and bike rental company on Bali Island!
In 2016 we acquired the business from Bali-Big-Bike.com, which has a large fleet of bikes in the bigger scooter and motorbike segment.
At Bali Bike Rental we truly care, our professional employees are dedicated to making your life and travel experience easier and more comfortable. After all, when you spend your vacation on this wonderful island you quickly learn that scooters and motorbikes are a fun and affordable way to see around.
All our employees speak English and we are ready to take care of you 24/7/365! All you have left is to do is ride carefully and enjoy your exciting Bali tours since we will see about the rest!
Whether you choose a bike for a hire or a scooter for hire on Bali Island, we are sure that it's the most comfortable way to see this amazing Bali Island! Tour around numerous sights and enjoy the breathtaking views of spectacular mountain scenery, beautiful beaches with friendly and open people and vibrant local culture.
Bali Bike Rental team is dedicated to providing excellent and reliable service and you can truly reach us 24/7 for assistance. Our clients are also always thrilled to have some really nifty add-ons such as Pocket WiFi, Insurance,selfie sticks, Rain Ponchos, First Aid kits,Power banks, and more.
Take home only the best memories of your well-deserved holiday time and come back again!